Key features
Intelligent Editor: for Erlang with code completion, syntax and error highlighting and code inspections
Code Navigation: project and file structure views, quick jumping between files, modules, functions and usages
Tools and frameworks integration: support for Eunit and Rebar
VCS Integrations: out-of-the-box support for Subversion, Git and Mercurial
Cross-platform: works on Windows, Mac OS X and Linux
Installation
Download the latest 12.1 IntelliJ IDEA build and install it
Setup the latest version of Erlang plugin from Configure > Plugins > Browse Repositories... > Erlang
Restart IntelliJ IDEA.
Done! You can import your existing Erlang project or create the new one.
Donations
If you would like to make a donation you can use PayPal.
You need to specify a directory that contains
bin
directory with
erl
and
erlc
executables inside.
Also that directory should contains
releases
dir inside.
Some predefined paths:
/usr/lib/erlang (Linux)
/opt/local/lib/erlang (Mac Ports on Mac OS X)
/usr/local/Cellar/erlang/R*/lib/erlang (Homebrew on Mac OS X)
If something goes wrong you always may reopen the
#31
.
First of all, you need to provide the right path to the
Rebar
executable (
Settings > Erlang External Tools
).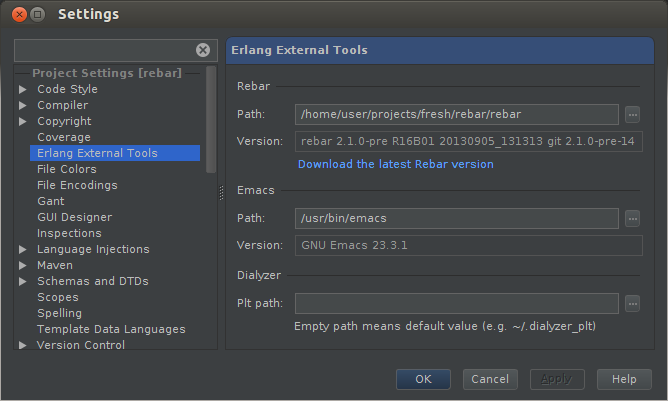 After that you may create the new one Rebar run configuration (
Run > Edit run configurations...
),
use a little green button on the top left corner: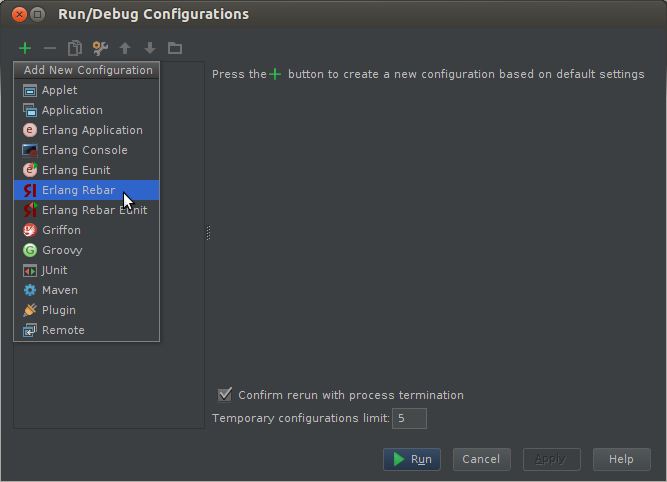 Or execute existing (
Run > Run...
)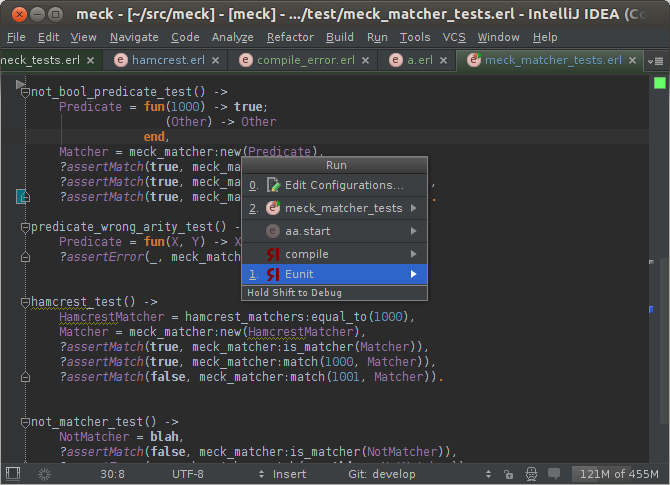 You may create run configuration for every command which Rebar supports, e.g.
compile
or
eunit
, etc.
Skip dependencies checkbox adds skip_deps=true command for Rebar executable.
Use test runner console checkbox attaches Eunit console which allows use graphical runner for your tests.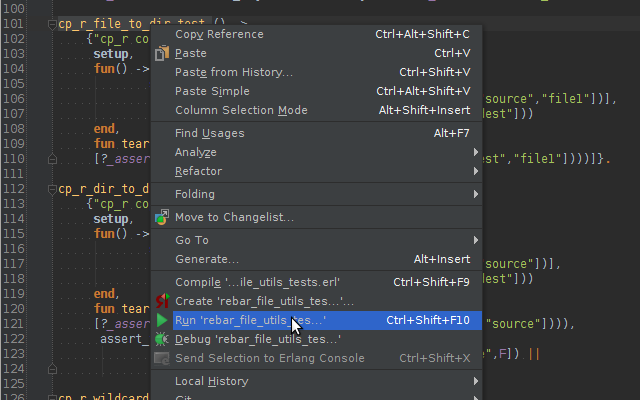 Rebar-based Eunit test runner (with
eunit
command):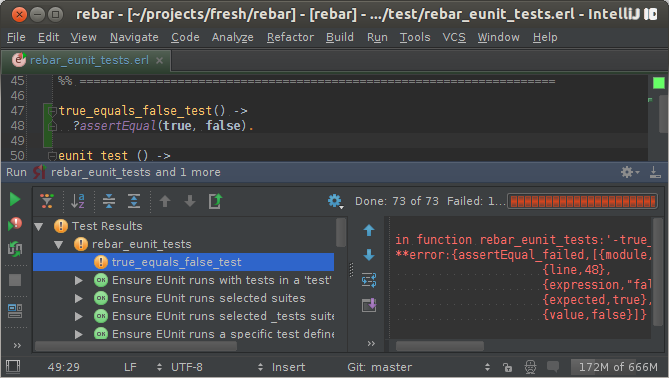 Compilation result (with
compile
command):